Cookie policy
What is a cookie?
A cookie is a small data file which is downloaded to your computer or mobile device when you visit a website. When you return to a previously visited website - or visit a website that uses the same cookies – that website will recognise these cookies and therefore your device.
Cookies perform essential functions, like letting you navigate between pages efficiently, remembering your site preferences and generally improving your browsing experience.
Differences between first and third party cookies
Cookies may be set by the site you are visiting or by another site prior to or during your visit. These are known as first and third party cookies.
First party cookies belong to the website domain that appears in the browser address bar. In our case this will be intermediary.tsb.co.uk/ and we may set these cookies when you visit in order that we can recognise you when you return.
Third-party cookies belong to website domains different from the one shown in the address bar. Some web pages can feature content from third-party domains (such as banner ads). This is why you might sometimes see a TSB ad on pages you visit after coming to our site. Other sites may also set cookies on your device during a visit to our site. These sites will be an approved partner of ours, such as sites which allow web chat sessions or surveys.
Differences between session and persistent cookies
There are two types of cookies placed during a website visit. These are called session and persistent cookies.
Session cookies are set at the start of a visit and remain active only while that visit continues. They primarily support navigation through the site as they remember which pages you have been on and what interactions you may have had with the site already (e.g. putting items in a shopping basket). These cookies are normally deleted automatically when you close your browser.
Persistent cookies are set during a first visit to a site but will carry an expiry date or time. This cookie will remain on your device until either you clear your cookies or the expiry is reached. They can be used for analytical purposes to track visits over time, for example we could see how many people visited a particular page and then came back to view it again later.
Neither of these types of cookies is used to collect or share personal information.
How to control which cookies are used/set on your devices
TSB Cookie Manager
When you visit the site for the first time, or if you visit after clearing your cookies, you may see this pop-up on the page: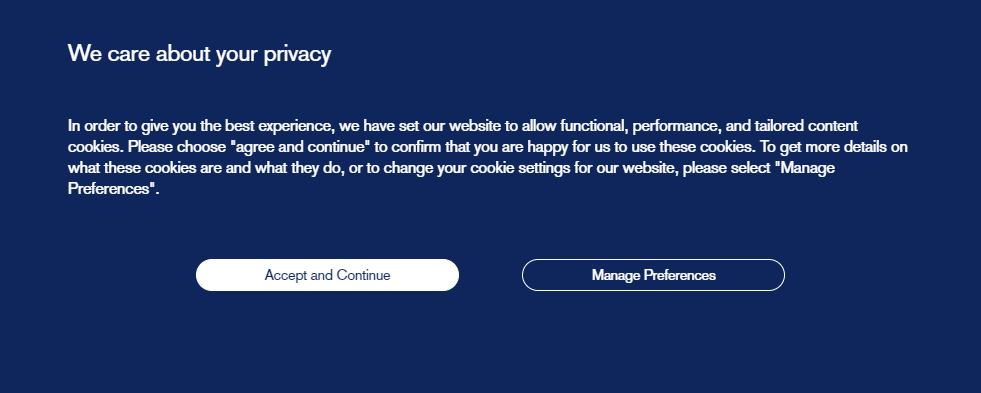 This cookie notice allows you to either accept all cookies and continue with your visit or click on More Information to change your cookies settings.
When you click on More Information you will see our cookie Manager: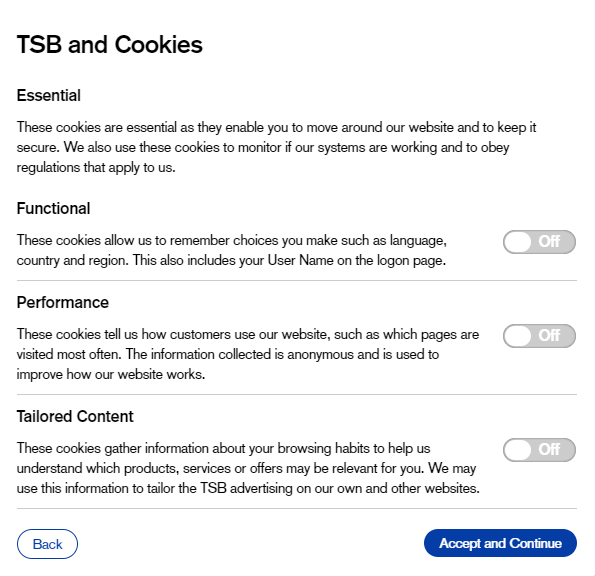 Things to consider
If multiple users access your device, their choices will also apply to you unless they are changed. This means you may also see messages based on sites visited by them.
If you choose to turn some cookies off, we will stop collecting new data from you, but may still use data that has been collected in the past. You are able to delete stored cookies by going to your browser settings.
Change settings from within your browser
Our cookie manager makes it easy for you to enable and disable certain TSB cookies but won't stop all cookies from other websites being set. To do this you may change your settings from within your browser.
The instructions for these vary from browser to browser and they may change from time to time as new versions are released.
Find out how to manage cookies in common browsers such as Edge, Chrome, Firefox and Safari on the Information Commissioners' Office (ICO) website.
Know your cookies
We use different types of cookie, which we categorise as "essential cookies", "functionality cookies", "performance cookies", and "tailored content cookies". Each cookie category performs in a different way, and you can find out more about them below.